"Terms apply to American Express benefits and offers. Enrollment may be required for select American Express benefits and offers. Visit americanexpress.com to learn more."
With an annual fee of $250, the American Express Gold card give you a host of benefits. Here we are going to look at 5 things you must do as soon as you get the card.
Enroll in the Dining Credit
The new American Express Gold card provides a $120 per year dining credit that is dished out in $10 installments each month. The credit is valid towards the bill at Ruth's Chris Steakhouse, The Cheesecake Factory, Shake Shack and towards spending on food delivery services Grubhub and Seamless. However you do need to enroll in the credit through the card benefits page in your online account.
Link Your Bank Account and Set Up Autopay
This one may be obvious, but it makes good financial sense to do this right away, to guard against late payments and the penalties they may incur. You can choose to pay the minimum payment or the entire bill (obviously this is a charge card so the minimum payment will usually be the entire bill, unless you have opted to use the "pay over time" feature for some purchases). I set my payment to go through automatically 15 days after my statement closing date, which is the default setting.
Refer Your Friends
Since the revamped Gold Card has just been released and the Rose Gold version is only available until January 2019, a lot of people are thinking of getting the card right now. So it is prime time to capitalize on that interest and provide referral links to your friends and family. You will earn 10k points for each referral, upto 55k per year. At the time of writing this article, referral links provide access to an increased 50k sign up bonus too, so you will be doing people you refer a favor, rather than just doing something for yourself.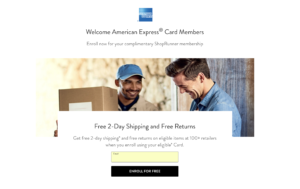 Enroll in Shoprunner
The Shoprunner benefit gets you free two day shipping and returns at over 140 stores, and it requires you to enroll. The selection of stores is pretty good and I was glad to see one of my favorite clothes stores, American Eagle, on the list. While there is no real reason to enroll right away, this is a benefit you may forget about it you don't explore it when you first get the card. In addition to Shoprunner, you can also take a browse through the Amex Offers that appear on the homepage of your account and can be added to your card for discounts or eatra points at certain stores.
Have a Plan for the Sign Up Bonus
For the launch American Express is giving out a two part sign up bonus, either 25k or 50k points for $2000 spending in the first three months, as well a $100 statement credit that comes in the form of 20% off your bill at any restaurant you go to. Basically they are getting the tip for you, because you do tip 20%…right? Anyway, just be aware of your spending during the first three months so you make sure you meet the $2000 spend to get those bonus points, this is the most crucial, because if you are even a little short, you will lose out on the whole bonus. Then also look at your restaurant spending to maximize that $100 restaurant credit as well.
Well that is it guys, happy swiping with your new cards!
CODEC Stories: