We reported recently on the 60k sign up bonus on the Citi ThankYou Premier card ending on Ocotober 11th 2018. This was the official end date for the offer, but it seems now Citi has extended that offer, with no end date currently listed on their website. 
Citi ThankYou points are transferable to 14 airline partners, including some really popular ones such as Etihad and Virgin Atlantic. You can also use the points to book travel through Citi at a rate of 1.25 cents per point, although this normally only brings in competitive value when booking economy tickets.
The card earns 3x on gas and travel, as well as 2x on dining and entertainment and 1x on everything else. The annual fee of $95 is waived for the first year. Citi ThankYou points are one of the 4 biggest points currencies in the credit card/points and miles game, so it is definitely advantageous to have a Citi card in your arsenal.
Personally I am not going to apply, firstly because I just go the Amex Gold Card. But secondly,  although I would like to get on the Citi bandwagon, the card that most interests me is the Prestige, thanks to its popular 4th night free benefit for hotels. However, the Prestige is currently not open to new applicants and we don't really know at this point what is going to happen. There has been talk of a relaunch, (perhaps with a rose gold version?? Just kidding), but who knows.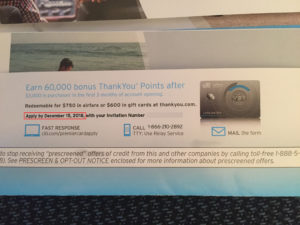 If you are lucky enough to be targeted in the mail with a 60k offer for this card, you may have a personal deadline to apply and get the bonus. I myself have a mail offer sitting on my desk that shows a December 15th 2018 deadline for applications (see image above). But if you don't have an offer through the mail with a personal deadline you may want to consider applying soon, just in case Citi does decide to end the bonus. 
CODEC Stories: