Credit Card Offers
Here are some of our recommended categories of credit cards to develop your credit, pay off balances cheaply and also earn travel rewards and benefits. These offers do come from our partners, feel free to read our advertiser disclosure policy.
Recommended Starter Card – Capital One Platinum Credit Card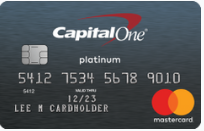 The Capital One Platinum is a card a lot of people start out with. It helps you build your credit score with easy approval, a low limit and a guaranteed credit limit increase after 5 months of on time payments. I myself used the Capital One Platinum to build my credit when I just started climbing the "credit card ladder."
Travel Rewards Credit Cards
These cards allow you to earn miles that can be spent on travel, they sometimes come in the form of transferrable points that can be transferred to airlines and can lead to very high end rewards such as business class or first class tickets.
Hotel Rewards Credit Cards
These cards earn hotel points that can be used at their respective hotel chain for free nights. These cards often give free hotel elite status which can get you perks such as late check out, free breakfast or even room upgrades.
Balance Transfer Credit Cards
These are cards that can help you out if you get into debt. Balance transfer cards allow you to transfer your balance from one credit card that is charging you interest to the balance transfer card where you wont pay interest for a period of time usually between 12 and 18 months depending on the card.
Business Credit Cards
If you run your own company or in some cases even if you are a sole proprietor, you will be eligible to apply for a business credit card. Some of these are business versions of consumer cards, others are stand alone business cards. They tend to have higher sign up bonuses (with higher spending requirements) and offer points in spending categories linked to business spending.