Hey credit warriors. Here, we are all about financial literacy, maximizing credit card rewards. And today I want to go through what I would recommend as the best first five credit cards for a beginner in 2022. Since this is for beginners, we are going to be looking at minimizing annual fees, maximizing the amount of rewards and cashback you can earn and not forcing you to spend a huge amount of money to get those welcome bonuses. If you like the sound of that, check out our website for more credit card and personal finance tips. 
1. The Discover it Cashback Card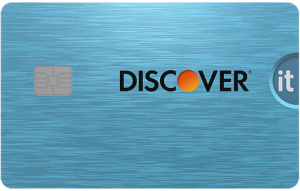 This is what I would recommend for a first credit card for a complete beginner. And this is probably what I would say is the best first credit card you could get. We'll get into why in just a moment. But people with what I call a "thin file," i.e. they don't have much or any credit history, there's not much information on their credit report, they should have no problem getting approved for this card. Now if you have a bad credit score, because you've damaged your credit through things like missed payments or even bankruptcy or other, then you might have a hard time getting this card. 
But if you just have no credit history, because you've got a thin file that lacks information, it's still an easy card to get and you can increase your chances of getting approved for this card and the other cards we're going to talk about today even further, by getting added as an authorized user first on a family members card. They do not even have to give you the physical card, they can just cut it up or put it in a drawer. Basically their credit history will report on your credit report and as long as they're paying it on time and they do have to be paying it on time. It will help you build your credit score. 
So why the Discover it card you may ask? Well that is because even as a complete beginner, you can earn some cash back rewards from this credit card. The alternative for a first credit card would normally be the Capital One platinum, which offers no rewards whatsoever. It's just for building your credit. The Discover it card however, has what we call a rotating quarterly category card earns 5% cashback on $1,500 worth of spending in categories that change each quarter. 
Here's the cashback calendar for 2022. In quarter one, it was 5% on grocery stores and gyms. In the quarter from April to Jun, it was earning 5% on gas and target which is amazing because gas prices are pretty high right now. After, from July to September the quarterly category is Restaurants and Paypal. And lastly, from October through December it is Amazon and Digital wallets. 
Another feature is the cashback match. They match everything you earn at the end of the year. So basically, you'd actually be earning 10% in those categories in your first year, and 2% on everything else. So discover it Cashback Card, a very solid credit card for a beginner with no annual fee. Let's move on to our next card.
2. Chase Freedom Flex or the Citi Custom Cash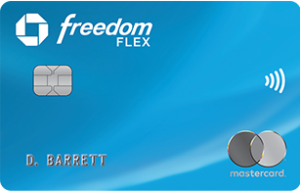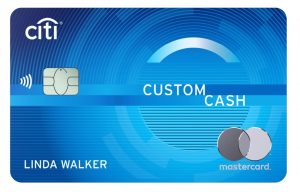 All right, I'm giving you a choice that you probably didn't see coming. But this really depends on whether you want to get into the Chase system or the Citi system later on. Now both the Freedom Flex, and the Citi Custom Cash, (which was a brand new card last year, by the way) are both rotating quarterly category cards, they earn 5% back or five points per dollar back on $1,500 worth of spending per quarter. Although the Citi Custom Cash is actually tracked as $500 per month, not $1500 per quarter, although that is nearly the same. But there are subtle differences. Like you know, the spending has to be spread out $500 Each month, not just $1,500 in the first month of the quarter, and then it's maxed out. Both cards do not have any annual fee.
The Freedom Flex announces its categories just before the start of the quarter. Normally on the 15th of the month before the quarter starts. The Citi Custom Cash is different, it just gives you 5% back automatically in whatever your highest spending category is for that quarter. Up to $500 in spending per month. So if your highest spending category was gas, you earn 5% back on gas. 
Both of these cards like to see a credit score in the upper 600 if you want to get approved on an application. Chase also generally likes to see a year of credit history before they approve you for any of their credit cards. Although you can get around this, especially if you have an account with them or if you apply in a branch and get a banker, put in a good word with the credit card department for you. But anyway, having an authorized user card to give you a bit more credit history would really help on either of these applications. Now the argument for getting a Chase card is because of the Chase "5/24" rule, which states if you've opened five or more credit cards in the past 24 months, (which is two years), Chase will not approve you for any Chase cards.
So in our first five credit cards, we do want some of them to be Chase cards because once we've gone beyond five in two years, we can't get any more Chase cards anyway. However, alternatively, if you're not interested in the Chase system, you may want to go with Citi – Citi Custom Cash. It's a really good card that was released last year. Because the categories are not rotating, (you just get 5% in your biggest category), it's easy to guarantee that 5% by just using that card for one thing like grocery shopping for example. Maybe you spend $500 or more a month on groceries. That's your biggest category guaranteed 5% every month. 
And before we move on, if you're looking for a way to pool information on all your credit cards in one place, you have to check out the app Max rewards. It links to your banks with a read only connection and pulls your balances, rewards, balances, utilization on all your cards. It warns you of upcoming bills and it shows you which cards to use where and in what category for the maximum points and cashback. If you have the gold version of max rewards, it'll even activate Chase rotating quarterly categories and AmEx offers for you so that you never miss a deal. And you can get a free month of that with my link below. Or you can just download the app and check out some of the free features of which there are many. 
3. Your First American Express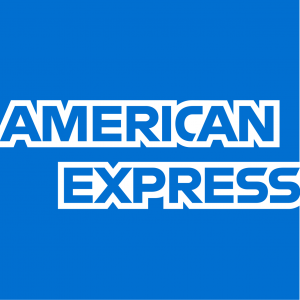 So once you have a credit score of around 700, Amex cards are really easy to get approved for and they do tend to offer higher credit limits. So we're now going to go for our first American Express card. I would recommend either the AMEX Everyday or the AMEX Everyday Preferred (if you don't mind an annual fee). And these cards are a great introduction to the AMEX membership rewards system, which you will be using if you are going to use credit card points to book travel later on. 
The everyday card earns 2 Amex points per dollar on supermarkets up to $6,000 in spending per year, and one point on everything else. The Everyday Preferred earns 3 points on supermarkets, 2 points on gas and 1 point on everything else. But there is a big advantage to the Preferred, and that is this: you get a 50% bonus on your points, if you make 30 transactions or more in a month. Everyday only gives 20%. So that means you could be earning 4.5 points per dollar on supermarkets and 3 points per dollar on gas with the Preferred. 
The only caveat of the Everyday Preferred is that it comes with a $95 annual fee. 
Now both of these cards have welcome bonuses. They're rather on the low side. The Everyday is 10,000 points. (Not bad for a card with no annual fee). The everyday Preferred is 15,000 points, which is quite low for a card that has a $95 annual fee. But the benefits are so good in other ways, like 4.5 points per dollar on supermarkets, that I can let the low bonus slide. So those are both good cards. 
If you prefer cashback you could alternatively go for the AMEX Blue Cash Preferred, which offers 6% back at supermarkets, and there is a spending limit per year for that. The Hilton Amex cards are also a great choice if you want to collect points and free nights to stay in Hilton hotels. 
I did say before that the reason we want to apply for an Amex card at this stage, is because they do offer high limits and that should set us up nicely. 
4. Chase Sapphire Preferred or Citi Premier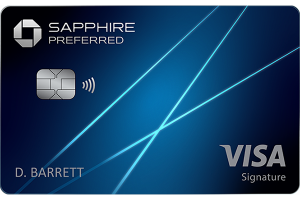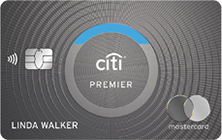 The Chase Sapphire Preferred is a great credit card to get once you've been getting credit cards for a year or so. It should be a reasonably easy approval. It currently has a 60,000 points signup bonus, which is worth at least $750 for booking travel through Chase's travel portal; so this will be a first big bonus. But since it is a Visa Signature card, it has a minimum credit limit of $5,000 or more. 
So that is why we are suggesting you get an Amex card first. Hopefully, you get a $5,000 limit or close to that. That will look really good on your credit report when you apply for the Sapphire Preferred, and it's your Sapphire Preferred that is going to work really well in conjunction with your Chase Freedom. Basically, you earn points at 5 points per dollar in those rotating quarterly categories on the Chase Freedom Flex, you then transfer those points over to the Chase Sapphire Preferred. And you can then book travel through the travel portal at a higher rate of 1.25 cents per point. Or you can transfer them out to airlines at a 1:1 ratio and get even more value out of them, 2 cents per point or more booking first class and business class flights. 
We are putting this card now as your fourth card because of the 5/24 rule. Because, remember, I did suggest that you get one authorized-user-card before you start this, which may show up on your credit report as being opened within the past 2 years. Maybe, maybe not, because you might get the whole history, and it might look like a very old account. But if that authorized user card does show up within the past two years, that would mean your third card is actually your fourth card, and your fourth card is actually going to be your fifth card. So this would be your last chance to get a chase card before you go over the 5/24 rule. If you want to know more about this card, the Chase Sapphire Preferred, check it out here.
But if you got the Citi Custom Cash as your second card, you may actually want to continue with this Citi system and go for the Citi Premier. And this works in much the same way. You can actually earn points on a Custom Cash at 5 points. Okay, they say it's cashback, but it is transferable into Citi Thankyou points. And you can do the same thing and transfer them to the Citi premier where you can then transfer them out to airlines and book all those really good business class and first class. I like the Sapphire Preferred. The Citi premier actually also currently has a 60,000 point welcome bonus and it earns points in some really great categories three points per dollar on restaurants, gas supermarkets, air travel and hotels. 
5. The Capital One Venture X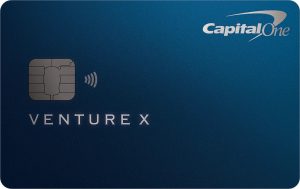 Now this was a brand new card last year, and it's Capital One's first ever, tier four or premium luxury travel credit card. It's great for beginners because of its comparatively low annual fee and generous travel credit. So the annual fee is $395. But there is a travel credit of $300 for the Capital One travel portal. When you booked through cash with the portal, you can get refunded up to $300. So that effectively lowers the annual fee to $95, if you max out the travel credit. So it really isn't that much out of pocket, especially if you use the travel credit right away. That's why I say it's a really good card for a beginner. You can compare it with the Chase Sapphire Reserve, also a tier four card but with a 550 annual fee. The AMEX Platinum also fits in tier four luxury travel cards and it has a $695 annual fee. 
The card did launch last year with a 100,000 Point welcome bonus that is, unfortunately, over now. But it's still at 75,000 points, which isn't that bad. Capital One has 16 Transfer Partners where points transfer out at a one to one ratio. So if you go ahead and you book business class flights with it, you could easily get over $1,000 in value out of that bonus, maybe even $1500. In addition, the card gives you the premium travel perks like: airport lounge access through priority pass, TSA PreCheck and Global Entry, which are sort of the must have standard perks for people who want to use credit cards to enhance a luxury travel experience. And you can get them at a bit of a lower rate than other cards. Okay, effectively just a $95 annual fee.
Just remember that Capital One is very sensitive to recent hard inquiries on your credit report. So I'd encourage you to space this application for the Venture X. Maybe six months since your most recent application for our cards you can apply for this card. 
So that wraps it up for our recommended first five credit cards for beginners, you start with The Discover It, then you move into either Chase or Citi systems. Then you get an Amex for the high credit limits then either a Chase or Citi mid tier card for the high bonus and an introduction to transfer Partners. And then you get the Capital One Venture X for your first premium card with lounge access etc. 
<a href='https://www.freepik.com/vectors/dual'> Dual vector created by starline – www.freepik.com</a>
CODEC Stories: