"Terms apply to American Express benefits and offers. Enrollment may be required for select American Express benefits and offers. Visit americanexpress.com to learn more."
Over the past couple of weeks multiple leaks have hinted at something quite incredible happening to the American Express Gold Card. First we had cardholders see 4x point earning rates on US restaurants and supermarkets show up in their accounts, and then after a couple of hours these rates disappeared (to be honest I think they did this on purpose to get people talking). Then we had leaked card images of the new metal cards, with a new rose gold variety, and many leaks about the revamped benefits of the card, supposedly being launched October 4th.
Well the wait is now over. The new Amex Gold Card did in fact launch this morning, October 4th 2018. The Rose Gold version of the new metal card is a limited edition and will only be available until January 9th 2019, so naturally I had to apply for it, and got an instant approval. Of all the leaks that spilled the beans on the new card, most of them were correct, with the exception of the 50k welcome bonus (although some have reported a targeted 50k offer) and the claim that the annual fee would stay the same, it has actually increased from $195 to $250 and isn't waived for the first year (which is actually what I predicted). Below we will post details of the actual card benefits that are now officially confirmed:
Card Benefits
4x point earning at US restaurants
4x point earning at US supermarkets (limited to $25,000 per year in spending, then 1x points)
3x on flights booked directly with airlines or Amex Travel
$120 dining credit ($10 per month at various restaurants and food delivery companies)
$100 airline credit (this is the same as before)
Benefits Axed
Previous 2x gas category is gone for those who apply for the card from October 4th 2018 onwards
(Current cardholders keep this benefit)
The 4x earning rates certainly make this card very competitive against other cards that earn transferable points, and could make the new gold card an industry leader. The dining credit is a welcome addition that will help offset the rise in annual fee. The way it works is similar to the Uber credit on the Amex Platinum, the dining credit is $120 per year but is limited to $10 per month. You can use it at Grubhub, Seamless, The Cheesecake Factory, Ruth's Chris Steakhouse and at Shake Shack. Note that Shake Shack locations at stadiums, ballparks, airports and race tracks seem to be excluded.
Sign-up Bonus
The rumored 50k points sign-up bonus sadly didn't materialize on the public offer, the gold card is currently offering a 25k bonus for $2000 in spending in the first three months, plus a $100 restaurant statement credit. The restaurant credit will give you 20% back on your bill at US restaurants up to a maximum of $100 in the first three months. If we use the Points Guy's valuations of Amex Membership Rewards points at 1.9 cents per point, the 25k points sign-up bonus is worth $475. Then add in the $100 restaurant statement credit and we get $575 in potential value.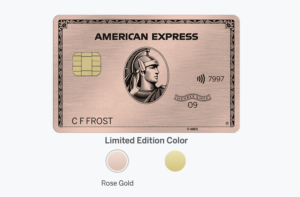 Applying for the New Metal Gold Card
I would recommend a credit score of over 700 and at least a year of credit history, plus average income, to guarantee a successful application. I was so excited about this re-launch of the Amex Gold, that I applied as soon as I woke up this morning. For new applicants you can choose the limited edition gold card when you apply. If you get an instant approval you will have the option of receiving card numbers electronically so you can begin using your card for online and mobile wallet purchases right away.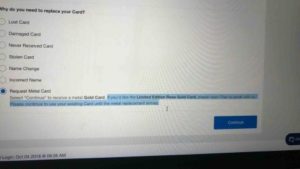 Requesting a Metal Card (Existing Cardholders)
If you are an existing card holder and want the new metal card, login to your account, go to account services and select "order replacement card for damaged, lost or stolen cards." There is then an option to order a metal card at the bottom of the next menu that appears. If you want the limited edition rose gold version you need to request it via the online chat function once you have placed the order.
Conclusion
All in all, I would say this looks like a very successful relaunch of this iconic charge card. I will be very pleased to be earning 4x on my restaurant bill and weekly grocery shop, and then have Amex's wide variety of airlines options to transfer those points to. I ordered the rose gold card, it looks a bit girly to be honest, but it was limited edition, and I think readers know how much of a fan of this stuff I am. I guess if I don't like it I perhaps can request a gold one and just keep the rose gold as a souvenir?
CODEC Stories: