Chime is entering the credit card market today by launching its new secured credit card – Chime Credit Builder Visa Credit Card – designed to help cardholders build their credit history simply by making everyday transactions. Chime's new credit card carries no fee and is a 0% APR secured credit card that helps consumers build their credit. Each month, Chime reports payments to major credit bureaus so everyday purchases like gas, groceries, bills, and subscriptions can all count towards your credit score.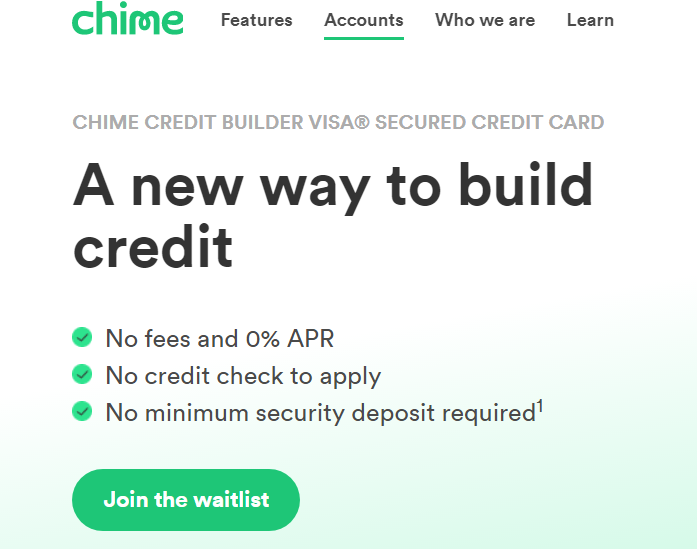 The main feature of the Chime credit card is that it enables cardholders to control how much they spend by transferring funds from their Spending Account to their Credit Builder Secured Account. Cardholders can then charge up to the transferred amount at any merchant accepting Visa. Thus tying how much the cardmembers can spend to how much cash is in their bank account and not allowing overspending.
Chime Credit Builder Visa Credit Card is a result of debit cards' growing popularity in the U.S. In 2018, the U.S. Federal Reserve said debit cards represent 50% of all noncash transactions. In a 2015 survey, Chime found that 67% of millennials preferred debit cards because a debit card is less likely to get them into debt. However, having only debit card accounts doesn't build consumers' credit score meaning they will have to pay large deposits when signing up for a cellphone plan, renting an apartment or setting up an account with the electricity company. 
"Americans have embraced debit cards for greater control but this limits their ability to establish or build their credit score," said Chime CEO Chris Britt, in a launch announcement. "We created Credit Builder to help our members stay in control and safely build their credit with their everyday purchases."
Two years ago, Chime acquired the credit score improvement service Pinch, which catered largely to millennials who wanted to build their credit score. One of Pinch services – PinchRent – reported on-time rent payments to credit bureaus as a way to help users build on-time payments history. Chime tapped into the Pinch team's expertise in creating Chime Credit Builder.
Chime has been beta testing Credit Builder since June 2019 and the service has grown to reach over 200,000 users. According to Chime, during the test period, Credit Builder has helped users increase their credit score by an average of 30 points and helped 95% of members with no credit history establish a credit score for the first time. 
Chime – not a bank itself, as its banking services are provided by The Bancorp Bank or Stride Bank, N.A – is opening up access to the waitlist for Credit Builder to all its Chime banking customers today.
Who Can Join the Chime Credit Card Waitlist?
Anyone with a Chime Spending Account can join the waitlist.
To be eligible for the Credit Builder card, you will need to receive direct deposits totaling $200 or more. Be sure to set up direct deposit if you haven't already!
Chime's Credit Builder launch follows yesterday's debut of the Path to Apple Card program – similarly designed to improve the credit worthiness of the applicants. The Path program highlights reasons for the previous decline, and helps users improve the specific credit score markers that would make these users more likely to get approved for Apple credit card next time.
CODEC Stories: