Rather than processing applications on a first-come, first-served basis, some of the nation's major banks prioritized small businesses seeking larger loan amounts in order to collect larger processing fees, according to a class-action lawsuit filed by Stalwart Law Group on Sunday on behalf of four small business owners. In four suits, a California-based company accused Chase Bank, Wells Fargo, Bank of America, and U.S. Bank of prioritizing small business borrowers who were seeking larger loan amounts under the federal government's Paycheck Protection Program (PPP). The Paycheck Protection Program is a loan designed to provide a direct incentive for small businesses to keep their workers on the payroll.
The Forgivable Loan Plan Runs Out of Money 
For many small businesses struggling to keep afloat due to the coronavirus outbreak, the federal Paycheck Protection Program — the $349 billion in emergency funding — was a much needed financial aid. The government-backed forgivable loan plan kicked off on April 3 and ran out of money less than two weeks later on April 16. 
According to Chase's statement; 80% of the PPP loans the bank processed had been for businesses with less than $5 million in revenue. Chase also stated that about half of the loans it processed "had been for less than $100,000".
"Comparing the April 13 data to the April 16 data shows that — in the last three days of the PPP — banks processed loan applications for $150,000 and under at twice the rate of larger loans," the lawsuits read. The Stalwart Law Group believes that this proves that banks shuffled PPP small business applications. If the banks had approved loans on a first-come, first-serve basis, "the percentage change of applications submitted in the last three days of the program would be consistent among all application types".
By frontloading businesses seeking higher loans, Chase, Wells Fargo, Bank of America and U.S. Bank would collect nearly $6 billion in processing fees total, the lawsuit alleges. 
"As much as 90% of the people that applied to these banks just didn't have their applications put through at all," said Dylan Ruga, a trial lawyer focused on intellectual property, professional liability, and commercial litigation with the Stalwart Law Group.
The Credit Shifu Loan Application Experience 
The Credit Shifu applied for $27,520 to cover 3 employees for 2.5 months on the very first day that Chase opened up the applications. The loan covering 2.5 months of business operation is forgivable as long as the small business uses it for payroll. After two weeks of waiting The Credit Shifu was notified that Chase "has approved loans that will exhaust all the funding available for the initial round" via this email below. I.e. the program had already ran out of money before they approved his lown.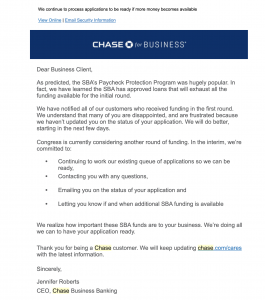 Loan Recipients Are Criticized  
Major chains like Shake Shack and Ruth's Chris Steakhouse received millions in funding from PPP and subsequently came under strong fire for accepting the loan while other smaller companies haven't received it. Shake Shack returned the $10 million it received. The company's CEO, Randy Garutti, and its founder Danny Meyer said yesterday the chain has laid off or furloughed hundreds of its employees and needed the assistance. In a press statement Garutti and Meyer said they were able to get extra funding late last week through an "equity transaction" and decided to immediately return the $10 million paycheck protection loan obtained through the CARES Act "so that those restaurants who need it most can get it now."
Moving Forward
A new stimulus bill is coming as Congress has agreed on $310 billion for the Paycheck Protection Program, $50 billion for EIDL among other things totaling $480 billion. This new stimulus package has already passes the Senate and should cover almost all the businesses that apply for the forgivable loan.  This second wave of stimulus payment aid might not be the last one and Congress may still add more as the nation's economy continues to halter due to the COVID-19 outbreak. More details in The Credit Shifu latest video.

CODEC Stories: