The ongoing coronavirus outbreak has made travel virtually impossible due to the restrictions created by local health guidelines and temporary (hopefully) travel industry businesses closures. Today, we will look at some non-travel related ways to use your credit card rewards and how to redeem your rewards for essential and other purchases.
Chase UR Points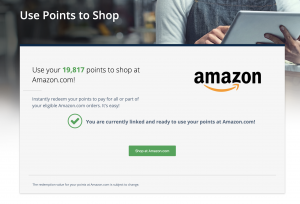 If you're a Chase credit card holder, your points can be:
Redeemed for 1 cent per point cash back on all Ultimate Rewards earning cards

Used to Shop on Amazon at 1 cent per point

Used to pay for all or part of your Apple purchases online at 1 cent per point
Used to shop for gift cards at normally 1 cent per point through Chase Ultimate Rewards, but the gift cards are often on sale, offering you a slightly higher value. For example, currently Victoria's Secret gift cards are 10% off, so you can buy a $10 gift card for 900 points. Also check out Happy Rewards (Sephora, Under Armor etc) that are 10% off and you can buy a $20 card for 1800 points.
In addition you can earn extra points that can then be redeemed for cash back or gift cards by using "shop through Chase." You can also save some money on your purchases through Chase Offers. Chase Offers is a program that gives cardholders the ability to add deals to their Chase-issued credit cards. These offers are targeted to each specific account and card and thus might differ from person to person and card to card. To view your available offers, check online at Chase.com or through the Chase mobile app. If you're signed up for a Chase newsletter you might also get emails when additional Chase Offers are available to you.
Citi
If you're a Citi Prestige credit card holder, your ThankYou points can be redeemed  at 1 cent per point as cash back. If you're another Citi's credit card holder your points can be redeemed at half the Citi Prestige points rate, at only 0.5 cents per point.
Similar to Chase points, you can use your accumulated Citi points to shop on Amazon at 1 cent per point. 
You can also use your points to shop for gift cards (Macy's, Brook Brothers, Old Navy, Panera Bread, Olive Garden).  
Amex
If you're American Express credit card holder, your accumulated points can be:
Redeemed for statement credits at 0.6 cents per point on all cards except for Charles Schwab Amex Platinum, that offers value of 1.25 cents per point and it's the best option for cash back

Used to shop on Amazon at 1 cent per point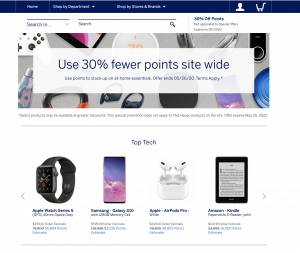 Used to shop through Amex. Current offer is 30% off until late April, but it's still a terrible deal in our opinion, since it totals to less than a cent per point

Donate to

Feeding America

through JustGiving.com and Amex will match the dollar amount of each donation – up to $1 million in total donations.

 
American Express has an Amex Offers program. It's quick and easy to search for the offers and add them to your card through your online account. You can also find Amex Offers in the Amex Mobile App by going to the "Offers" tab. When you see an Offer you like, just tap to add it to your Card. One example of such an offer is 2000 bonus points when you spend $50 or more on Blue Apron purchases.
The above is a round up of points redemption options specific to Citi, Amex, and Chase that don't revolve around travel. Another great way to get more money back on your everyday purchases is to shop through Rakuten that offers cash back for all major retailers and exclusive offers worth checking out, such as free delivery, gift with purchase, and a $10 reward with your first purchase. If you buy gift cards check out Raise.com that offers cash back, coupons, etc. 
CODEC Stories: