New $120 Dining Credit
Some cardholders of the American Express Premier Rewards Gold card received notifications this morning that Amex is adding a $120 annual dining credit to their cards. Right now Amex hasn't released any official statement or press release about the new benefit and it doesn't appear in the public offers on the American Express website. I phoned American Express for some answers and the phone operator told me it looks like it is currently a targeted offer for some existing card holders.
So this may be something that is just a targeted offer for certain people, a card benefit that is being rolled out gradually and eventually everyone will have, or a mistake. But let's take a look at how it works. The credit works in a similar way to the Uber credit on the Amex Platinum in that it is a total of $120 per year, but is limited to $10 each month. You will get reimbursed for spending at the following restaurants and food delivery services:
Grubhub, Seamless, The Cheesecake Factory, Ruth's Chris Steakhouse, participating Shake Shak locations.
The credit can be activated by either the primary cardholder or an authorized user, but is only $10 per month per account (i.e. if your authorized user uses it first, you are left with $0 for that month!)
Increased Earning at Restaurants and Supermarkets
In addition to the new $120 credit, two of our viewers contacted me this morning reporting seeing a new point earning structure on their accounts and it looks very promising.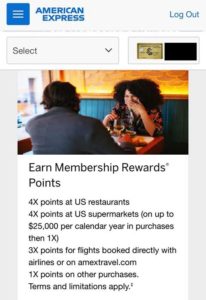 So the Amex PRG now earns:
4x at US restaurants
4x at supermarkets (up to $25,000 per year)
3x on flights booked directly with airlines or Amex Travel
1x on everything else
(A previous 2x gas station category is cancelled)
In my opinion these changes make the Amex PRG a very competitive card, if they are rolled out universally. The $120 dining credit combined with the $100 airline fee credit that the card already provides completely cancels out the annual fee. Earning 4x back at US restaurants and 4x at supermarkets is unprecedented. The only card I can think of from the top of my head that provides 4x on dining is the Uber credit card, but that earns cash back, not points. The Points Guy values Amex Membership Rewards points at 1.9 cents a piece, so that makes that 4x per dollar actually worth 7.6 cents in value you are getting back from spending at restaurants and supermarkets (as long as you redeem the points correctly i.e. transfer to airline partners).
So if this is rolled out universally, well done American Express, while most other card issuers are stripping away benefits, Amex is actually increasing them. I am now very seriously considering applying for the PRG card.
Thanks to two Credit Shifu viewers/readers that contributed information and images to this report.
CODEC Stories: