If you are a Hilton Honors member, check your email (and its spam folder) for an email from Hilton Honors titled: "More points Mean Free Nights Faster!" Hilton is offering bonus points to those that enroll in the offer, and it is unlimited on stays within the promotion period.
Hilton is offering 2k bonus points per stay, on top of what you earn for being a Hilton Honors member and what you may earn if you book on your Hilton credit card.Then they are offering an additional 10k point bonus every 5 stays or 10 nights, whichever comes sooner. They give an example in the email of a person who completes three stays that total 10 nights, they earn an extra 2k points for every stay and 10k when they reach the 10 night threshold, so a total of 16k extra points or 36k points if you include an estimated 2k per night base point earning for being an Honors member.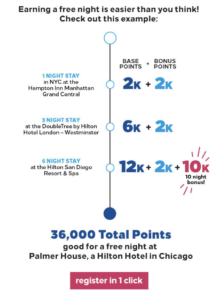 The promotion is valid until May 5th 2019 and nights within that period will earn the bonus, regardless of booking date or check in and check out dates. Once a 10k bonus is earned, it will reset and you will be able to do another 5 stays or 10 nights to get another 10k, and you will still earn the extra 2k every stay. But you do have to enroll by clicking the link in the email, so don't forget.
The Hilton credit cards from American Express (as well as equivalent hotel cards for other chains) are also a great way of getting free nights as well as raising your status in the hotel loyalty programs so you can enjoy perks such as executive lounge access, free breakfast and room upgrades. Hilton periodically sends out similar promotions to members, so if you haven't received the email this time, you can look out for other similar opportunities in the future.
CODEC Stories: