This post includes a paid promotion by our sponsors, please click to view advertiser disclosure
Have you ever been stuck in the TSA line, when your flight started boarding five minutes ago? Have you ever been delayed and your airline finds an excuse not to compensate you for the inconvenience? Or have you ever wished you had the cash required to upgrade yourself to business class? Well a lot of these problems can be solved by simply having a travel rewards credit card in your wallet. Let me explain how…
There are basically three areas where travel rewards credit cards can improve your travel experience: benefits such as lounge access, skipping lines, status with hotel chains etc…, earning points which can be used for free flights or upgrades and insurance such as trip delay insurance and lost baggage insurance. We will cover each one in detail below.
Benefits – Never Wait in the TSA Line Again
Most premium travel credit cards, such as the American Express Platinum Card, offer a $100 credit which covers the cost of Global Entry (including TSA pre-check) every 4 years. Once you have enrolled in this benefit, which involves a one off interview at your local airport, you wont need to line up with the cattle to put your bags through the X-ray machine, you can go through the TSA pre-check lane, which typically has no line, you also won't need to remove your shoes. Likewise when you return to the USA from abroad you will also be able to skip the line at passport control by using the Global Entry system.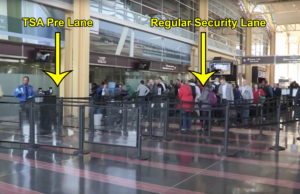 Other benefits offered by premium credit cards include hotel gold status with chains like Hilton or Marriott, which will give you priority check in, room upgrades and often free breakfast. Travel credit cards also offer top tier status with car rental companies like National or Avis. Executive status with National, for example, allows you to choose any car from the executive area (full size and above) but only pay for a midsize vehicle.
The other big benefit that premium travel credit cards offer is airport lounge access. Many of these cards offer Priority Pass Select membership which gives you access to over 1000 airport lounges worldwide. The Amex Platinum also has its own network of Centurion lounges in addition to Priority Pass membership, and the Citi AAdvantage Executive Platinum gives cardholder access to American Airlines Admirals Clubs, which are normally reserved for business and first class passengers only.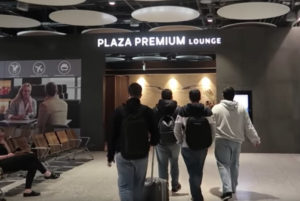 Put simply all these benefits will make you feel like a VIP and help you reduce the stress of your travel experience.
Earning Points and Miles – Your Ticket to First Class
Many travel credit cards offer sign up bonuses of around 50,000 points. These points can be exchanged for free flights, for example the 50,000 point sign up bonus an American Express card, when used in the correct way, would cover a first class ticket with a fully flat bed, from New York to LA on American Airlines. In addition to sign up bonuses these cards offer you the ability to earn points on daily spending to use towards free air travel and hotels as well.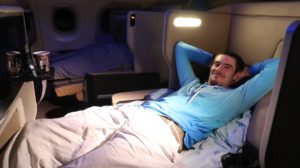 Insurance – Giving You Piece of Mind
Travel credit cards usually offer a collision damage waiver, which means you can refuse the additional collision coverage that car rental agencies will try to sell you, since your credit card will cover you if your vehicle gets damaged, as long as you use that card to pay for the rental. These cards will also typically offer a variety of travel insurances, such as trip cancellation insurance, baggage insurance and travel accident insurance, again, as long as you use the card to book your trip.
Even items that you buy with the card will often be insured against theft of breakage for the first 90 days and typically will have their warranties extended by one year. In addition, credit cards give you the ability to reliably perform a chargeback when a merchant doesn't deliver a service or product you have paid for. A friend of mine used this function when the airline he had booked flights from London to Hong Kong with went bust in 2008. He was able to get the credit card company to perform a chargeback and the money was returned to him as a statement balance on his account.
Conclusion
If you have really taken to heart and understood all the above points, I think you won't use a debit card to pay for anything again. With a credit card, your purchases are more heavily insured and you earn points that can get you one step closer to a free first class plane ticket. You will also be able to whizz through airport terminals and relax in the tranquility of airport lounges while the peasants wait in line by the gate!
So I would say any wallet should include at least one travel credit card in it's line up. The one caveat of these cards is they do often have annual fees, but these fees are usually offset greatly by the massive sign up bonuses on offer and the continued value that users get out of the cards. And remember if you don't feel a card is getting you positive value you can always cancel it after the first year anyway. So I would encourage anyone who wants to get the most out of their travel experiences to get themselves a travel credit card.
CODEC Stories: