If you have been surfing social media websites recently, you may have come across an ad for Finn by Chase, an online/mobile banking service with an upbeat lively tone that Chase themselves describe as : "Your classic bank account, with shiny, new tools to help you take control of your money."
So how exactly does a Finn account differ from a regular Chase bank account? Well the first difference you will notice is that the account is accessible through the new Finn app, which is currently only available for iPhone, but will come to Android soon. However your Finn username and password will also work for Chase.com. Some in-branch services will only be available through an ATM, the Finn app or by calling the Finn customer service number. For example you cannot deposit cash with a bank teller, you will have to use the ATM.
Making some branch services not available has allowed Chase to provide some better features for Finn card members VS regular Chase accounts. The Finn account gives you a larger network of fee-free ATM's compared with Chase's Total Checking Account, the app gives you a map of 29,000 ATMs in all 50 states. The Finn account also has no monthly service fee and no overdraft fee, purchases will simply be declined if there are insufficient funds in the account.
Chase Accounts Compared
Feature                  Finn By Chase           Chase Total Checking
ATMs                      29,000                       16,000
Monthly Fee           $0                               $12
Overdraft Fee         $0                               $34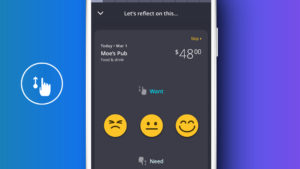 The Finn App
The Finn app provides some interesting features that some people may consider helpful and some may consider gimmicks. The app allows you to rate your purchases by clicking on a choice of emojis, from sad to happy, this rating can then be used to set up an automatic transfer to savings when you make a bad purchase. So it is kind of like punishing yourself for irresponsible spending and saving at the same time, for example $2 transfers to savings every time you buy fast food. The app also divides your purchases into categories so you can track where you are spending your money.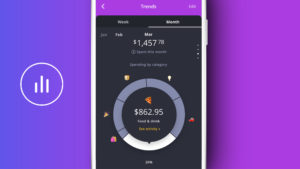 Finn Savings
Finn also provides a savings account, but the interest rate is so pathetically low that it shouldn't be considered as a serious option for significant amounts of savings. Here are the interest rates from Finn's terms and conditions: "The Annual Percentage Yield (APY) for Finn Savings effective as of 5/20/18 is 0.01% for balances between $0-$9,999, 0.03% for balances between $10,000-$24,999, and 0.04% for accounts with balances above $25,000." Most other online savings accounts such as Marcus by Goldman Sachs or Ally bank offer 1.9% APY. Is it just me or does anyone else notice a trend in the names of those accounts?
Sign Up Bonus
The Finn account currently offers a $100 sign up bonus for opening the account. The terms of this bonus are as follows: you must be a new Chase customer, open Finn checking and savings accounts, make 10 transactions within the first 60 days of account opening and keep your accounts open for 6 months. A pretty easy $100 if you ask me.
Conclusion
The Finn account may be useful to some, for example those on low or unstable incomes, who may find it hard to guarantee a $500 deposit into the bank each month in order to have Chase's Total Checking $12 fee waived. Or people who use cash a lot and will find the increased ATMs useful, as well as young people who are just starting to learn about personal finance and will find the breakdown of expenses or the rating system for transactions helpful.
But for myself as a father of two, there is no way less than $500 would be ever deposited in to my account per month (kids are expensive), so I am always able to waive the $12 fee for personal checking from Chase. The extra ATM acceptance would be nice, but not essential, and the other features of this account and its mobile app are really just gimmicks to me. So while I would recommend this to perhaps a student, a stay at home mom who occasionally does freelance work or someone who is unemployed, I wouldn't recommend it to those with full time jobs. As for the savings account, I wouldn't recommend that to anyone, the interest rate is too low to be taken seriously for those who are actually trying to save long term. But all round an interesting offering, that does fit into a certain niche in the market.
CODEC Stories: