Tesla's Q1 results, next quarter predictions, and business outlook were discussed yesterday during Tesla's Q1 earnings call. Tesla managed to — to everyone's surprise — eke out a profit of $1.24 a share, despite Wall Street expectations of 36 cents a share loss. This is Tesla's third consecutive quarterly profit, sending the stock up more than 7% in extended trading.
The current lockdowns caused an unprecedented harm to the majority of companies in the U.S., bringing entire industries, like travel and hospitality for example, to a near extinction state. Tesla's earnings show that the company is able to withstand an extended shutdown: Tesla reported $5.99 billion in revenue. Revenue grew 32% year-over-year despite Tesla having to temporarily shut down production at its Fremont, California factory, as well as its Shanghai Gigafactory, due to the coronavirus pandemic.
"Q1 ended up being a strong quarter despite many challenges in the final few weeks. This is the first time we have achieved positive GAAP net income in a seasonally weak first quarter. Even with all the challenges, we achieved a 20% automotive gross margin, excluding regulatory credits while ramping two major products," said Elon Musk — Co-Founder and Chief Executive Officer during the opening remarks.
Tesla's revenue was mostly impacted by lower deliveries, driven mainly by limitations in the company's ability to deliver vehicles in March. Tesla's average selling price declined further with Tesla's mix continuing to shift from Model X and Model S to the more affordable Model 3 and Model Y. 
Model Y Numbers
"In Q1, we produced more Model Ys in the first quarter than Model 3s in Fremont in the first two quarters. Thus far, the Model Y ramp has been even faster than the Giga Shanghai ramp in Q1," Elon Musk added. "Model Y was profitable already in its first quarter of production, something we haven't achieved with any product in the past." 
Model Y is Tesla's second large-scale product launch since Model 3, built in Fremont, in 2017 and showcases "the progress Tesla have made on cost control and ramp efficiency".
For Model Y, Tesla introduced a new two-piece rear underbody casting that the electric automaker is planning to make a single-piece casting later this year. Essentially, this means the rear third of the body will be cast as a single piece, of which "no casting of the size or complexity has ever been done before. In fact, there isn't even anything that is on par with the two-piece casting for the Model Y. So, we're really pushing the envelope on vehicle structural engineering and manufacturing. I'm very excited about this approach as it allows us to reduce the weight of the cast and improve NVH."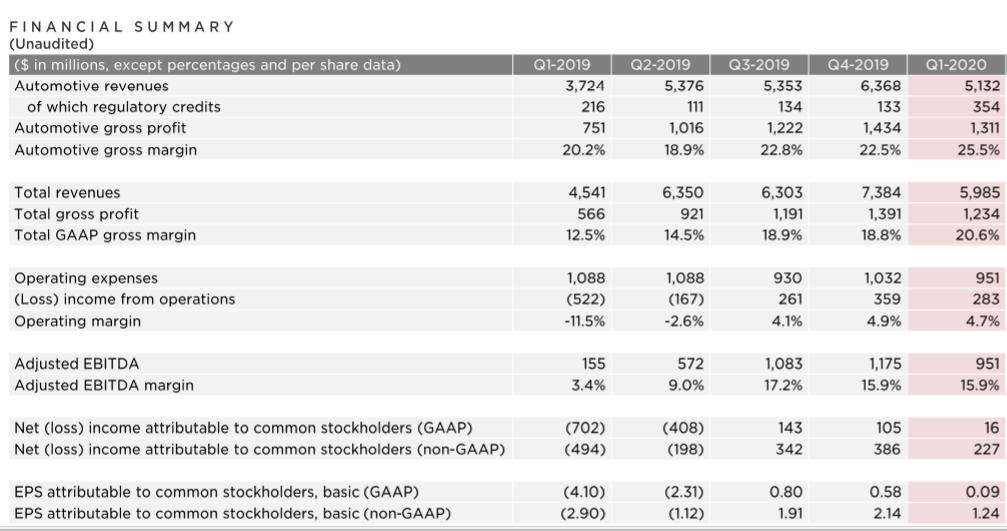 Negative Earnings Factors
Tesla's production downtime charges taken in Q1, limited ability to deliver due to healthcare restrictions, "shutdown activities", and cash flows impacted by the temporary increase in end of quarter inventory are among the factors that negatively impacted Tesla's earnings in the first quarter.
"Our energy business was impacted as well by shutdown activities in Q1 limiting deployments. We also experienced expected launch inefficiencies associated with our third version of the Solar Roof, which impacted overall profitability," said Zachary J. Kirkhorn, Chief Financial Officer during yesterday's Tesla's earnings call. "As I've noted before, we expect regulatory credit sales, which are credits we sell to other carmakers to generally increase with time. This can be seen by the increase from Q1 relative to Q4. And note that most of the credit revenue did not contribute to cash in Q1, and it's reflected in the accounts receivable on the balance sheet.
Tesla's Earnings: Looking Forward
Tesla is planning to remain focused on ensuring cash flows are "managed appropriately", reducing non-critical expenses and optional investments.
"Working capital management, in particular, raw material inventory is the single most important lever in managing our cash flows during this time," explained Kirkhorn.
Tesla is aiming at becoming a "truly global manufacturer" with major factories in North America, China and Europe and a capacity of over 1 million units a year.
"We are absolutely continuing our Model Y capacity expansion at full speed at both Giga Berlin and Giga Shanghai and here in Fremont when they will let us continue. Localized production in China and in Europe will bring the cost down, making our products even more competitive over time. While many other companies are cutting back on investment, we are doing the opposite. We're absolutely pedal to the metal on new products and expanding the company."
CODEC Stories: