LAX is one of the most frequented airports by premium American Express Card Members, who booked 10% more flights through this airport in 2019 than the year prior. Building on the momentum of recent Centurion Lounge openings in Phoenix and Charlotte, today, American Express is opening its 12th Centurion Lounge at Los Angeles International Airport. The lounge will be American Express' largest yet, spanning nearly 14,000 square feet in the Tom Bradley International Terminal, and accessible post-security from Terminals 4, 5, 6, 7 and 8. 
This new location offers unique spa services and wellness experiences from Exhale and a menu from Los Angeles-based, award-winning Chef Nancy Silverton. "This new lounge is a great example of how we're continuing to enhance the end-to-end airport journey for Card Members, from lounge discovery to the immersive experience waiting just behind the blue doors," said Alexander Lee, Vice President of Travel Experiences and Benefits at American Express.
Relaxing Tranquility Area and Spa Services
For those traveling into new time zones, or guests hoping to relax before a long flight, the Centurion Lounge at LAX will feature a first-of-its-kind Sunrise and Moonrise tranquility rooms, offering brightly and dimly lit quiet spaces to relax and recharge. The Moonrise room ushers in a sense of nighttime relaxation through a starry night inspired ceiling. Meanwhile, the Sunrise room helps awaken the senses with illuminated walls, emanating an atmosphere of dawn-like hues.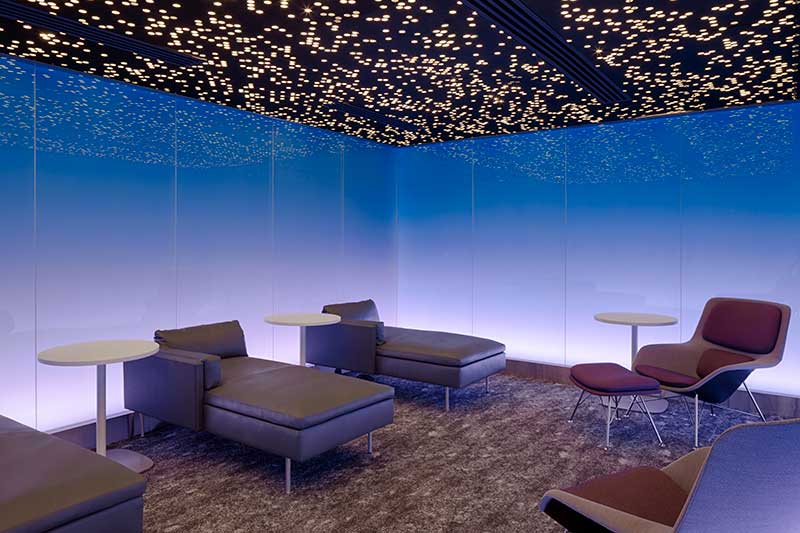 American Express has also partnered with Exhale to offer Light Therapy designed to hydrate skin, Reiki treatments to restore the body's equilibrium, and Ear Reflexology to relax the mind and ease the body. Hand and nail therapies, as well as chair massages, will also be available.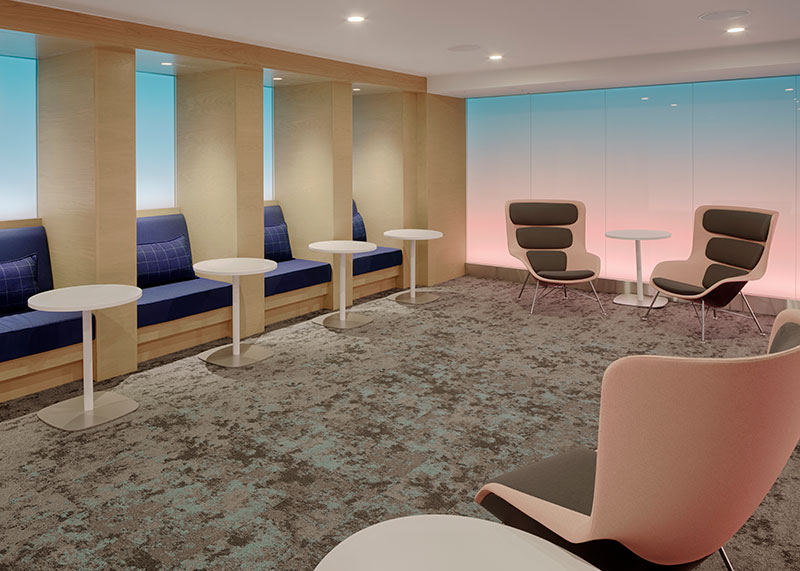 A Taste of California
Offering a taste of Los Angeles' culinary fare, American Express Global Dining Collection Chef, Nancy Silverton, will curate an appetizing menu. Silverton has been surrounded by fresh ingredients since her youth, having grown up in southern California. Leveraging her relationships with local farmers and purveyors, Silverton's menu will incorporate a variety of local and artisanal ingredients: Asparagus Egg Pie, Panettone French Toast, Farro Salad with Fresh Herbs and Feta, Mozza Meatballs, Roasted Beets with Horseradish Vinaigrette, Butterscotch Budino and more.
The new lounge will also offer premium wine selections by Wine Director Anthony Giglio, as well as specialty cocktails by renowned Centurion Lounge mixologist Jim Meehan. Guests will also be able to enjoy coffee from Los Angeles-based City Bean Roasters, whose coffee is sustainably sourced directly from local farmers.
The lounge will also provide guests with private noise-buffering workspaces, a family friendly room, high-speed Wi-Fi, premium restrooms and showers, power outlets and American Express Member Services Professionals to assist with on-site Card and travel-related services.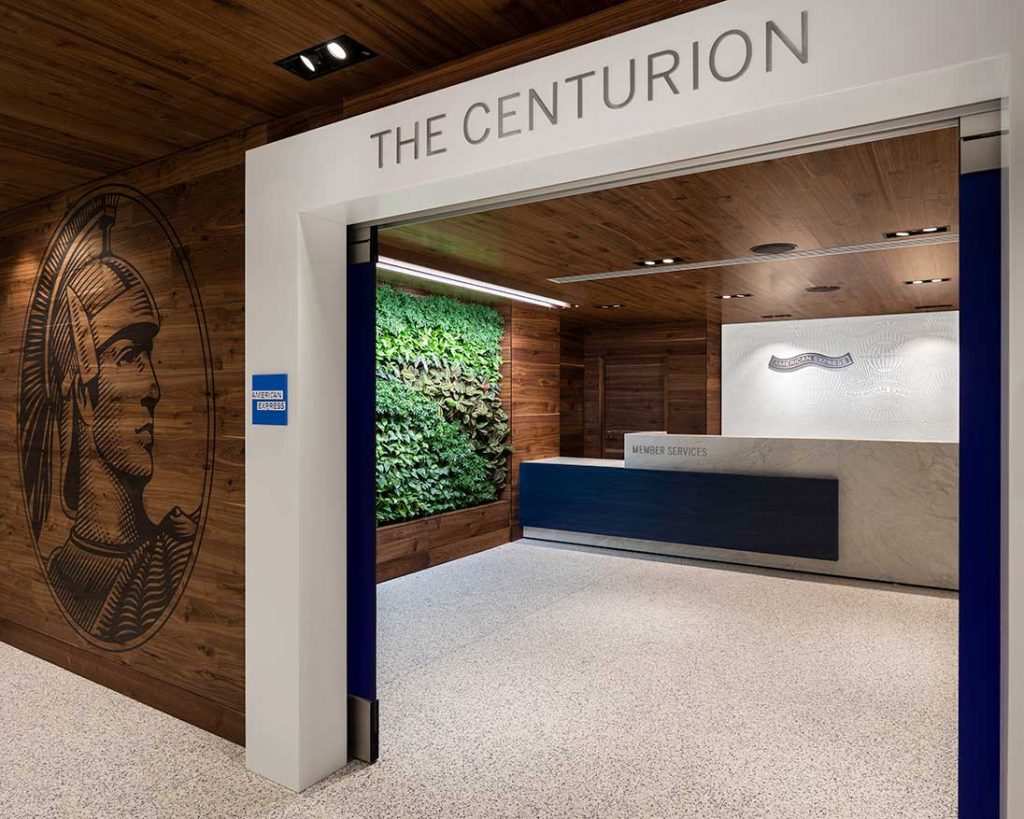 The American Express Global Lounge Collection provides The Platinum Card® from American Express Members, Centurion Members and Delta SkyMiles® Reserve American Express Card Members with places to relax and recharge while traveling the globe, offering access to the most lounges compared to any U.S. credit card, including more than 1,200 lounges around the world, in 500 plus cities and across 130 countries and counting (terms apply). You can search and find lounge locations through the Find A Lounge tool online or within the American Express App. You can also check-in to select Centurion Lounges through the mobile check-in tool within the App.
In addition to The Centurion Lounge at the Los Angeles International Airport, American Express has announced new locations coming to New York's John F. Kennedy Airport, Denver International Airport, and London Heathrow.
CODEC Stories: