U.S. Attorney Craig Carpenito announced Friday that Aharon Lev, 33, of Lakewood, NJ and Timothy Gibson, 43, of Lehi, Utah, were charged via indictment with counts of conspiracy to commit wire fraud. Lev and Gibson were running a fraud scheme where they obtained credit cards in the names of third parties and then bought items to build up reward points, monetize those points and then cancel the purchases. 
Over two years, this credit card fraud cost  card issuers more than $8 million in fees paid to the airlines for acceptance of points for miles.
Aharon Lev, 33, was charged with one count of conspiracy to commit wire fraud, two counts of wire fraud and two counts of aggravated identity theft. He could spend the rest of his life in federal prison if convicted, according to the U.S. Attorney's Office for the District of New Jersey. 
From August 2014 through May 2016, Lev recruited individuals to give him personal data — such as their Social Security numbers — which he then used to open numerous small-business accounts in their names, the statement said. Lev then used those accounts to make purchases that generated rewards points, which could be redeemed for frequent-flyer miles with various airlines. Once the points were issued, Lev canceled the purchases.
Another co-defendant named in the indictment, Timothy Gibson, 43, of Lehi, Utah, is alleged to have assisted Lev in the scheme and has been charged with conspiracy to commit wire fraud. According to the U.S. Attorney's Office, Lev sold the points to Gibson, who resold them to third parties for use as miles to purchase airfare. Lev, who has left the United States for Israel, has been ordered to return home for a scheduled June 9 arraignment date, the statement said.
Each charge of wire fraud and conspiracy to commit wire fraud carries a maximum penalty of 20 years in prison, a $250,000 fine, restitution and forfeiture. Each charge of aggravated identity theft carries a mandatory sentence of two years in prison, to be served consecutive to any sentence on the wire-fraud and conspiracy charges, according to the U.S. Attorney's Office.
Credit Card Fraud Is on the Rise 
Fraudsters are increasingly using stolen credit-card numbers and phishing attacks to prey on credit and debit cardholders since the coronavirus shut down the U.S. economy earlier this year. According to Fidelity National Information Services Inc., (FIS) the dollar volume of attempted fraudulent transactions rose 35% in April from a year earlier.
Fraud losses cost banks, merchants, and cardholders $16.9 billion last year, up 15% from the year prior and the highest level since 2013, according to Javelin Strategy & Research.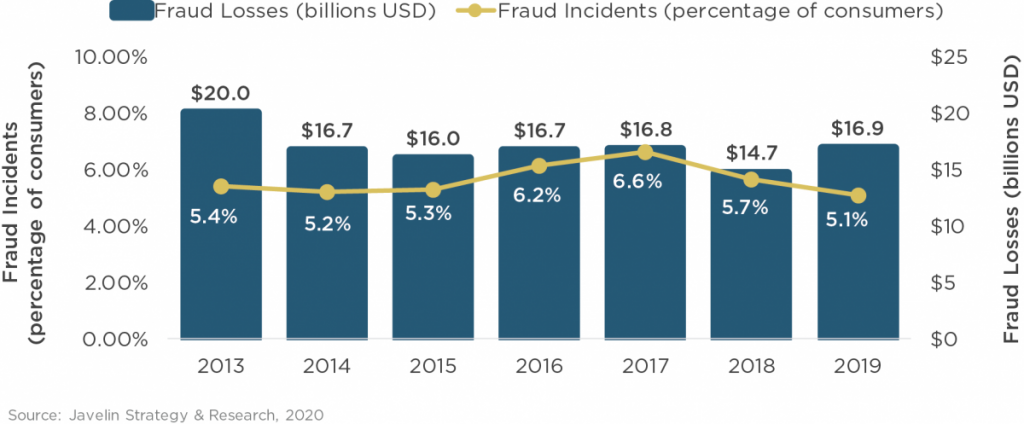 Tactics That Credit Card Fraudsters Employ
There are a number of tactics that fraudsters employ, including generating random card numbers until they stumble upon legitimate accounts and phishing attacks via phone calls, emails or texts, pretending to be your credit card issuer, saying your card number had been stolen and you need to "activate" a new card, etc.
"The pandemic is dangerous enough without wrongdoers seeking to profit from public panic and this sort of conduct cannot be tolerated," said Attorney General Barr.
The following are scams that criminals are attempting to exploit the COVID-19 situation, and things to be cautious of:
Unsolicited healthcare fraud schemes of testing and treatment through emails, phone calls, or in person.  The U.S. have medical professionals and scientists working hard to find a cure, approved treatment, and vaccine for COVID-19.

Learn more about what to avoid

An increase in cryptocurrency fraud schemes including but not limited to blackmail attempts, work from home scams, paying for non-existent treatments or equipment, or investment scams.

Unsolicited telephone calls and e-mails from individuals claiming to be IRS and Treasury employees. Remember IRS first form of communications is by mail – not by phone.

Calls claiming you received an overpayment of the stimulus money and demanding a "refund" of the difference.  Consumers may be threatened with adverse consequences such as fines, forfeiture, or arrest if they refuse to refund the money.  Callers may demand payments by stored value cards, such as iTunes, Google play, or Steam cards, or by money transmission such as Western Union or MoneyGram.

Scammers, pretending to be contact tracers and taking advantage of how the process works, are also sending text messages. 
Criminals will likely continue to use new credit card fraud methods to exploit COVID-19 worldwide. If you think you are a victim of a scam or attempted fraud involving COVID-19, you can report it without leaving your home by calling the Department of Justice's National Center for Disaster Fraud Hotline at 866-720-5721 or via the NCDF Web Complaint Form.
CODEC Stories: