The new Pay Yourself Back feature within Ultimate Rewards will provide Sapphire Preferred and Sapphire Reserve cardholders to get full value from their points by applying points to pay for all or a portion of their existing purchases in select categories, and get paid back with a statement credit.
A Step-by-Step Guide on How to Use the Chase Pay Yourself Back Feature
1. Go to the Chase website. Sign in 
2. Click on your Sapphire Preferred or Sapphire Reserve card.
3. Scroll down on the left hand side and at the bottom you will see Account Benefits. Click on Ultimate Rewards.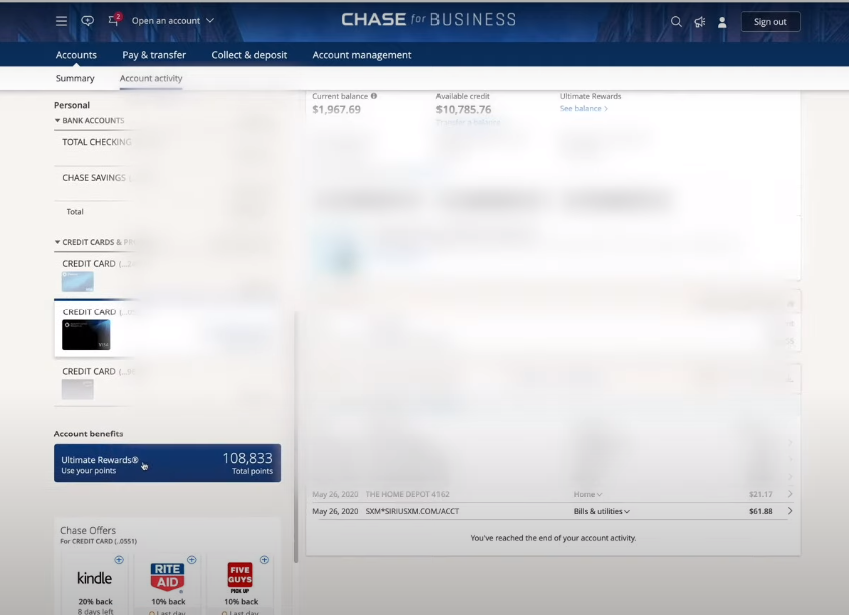 4. If you have multiple Chase cards, click on your Sapphire Reserve/Sapphire Preferred card.
5. Click on the three lines (menu icon) on the top left corner. Go down the menu and click on Pay Yourself Back.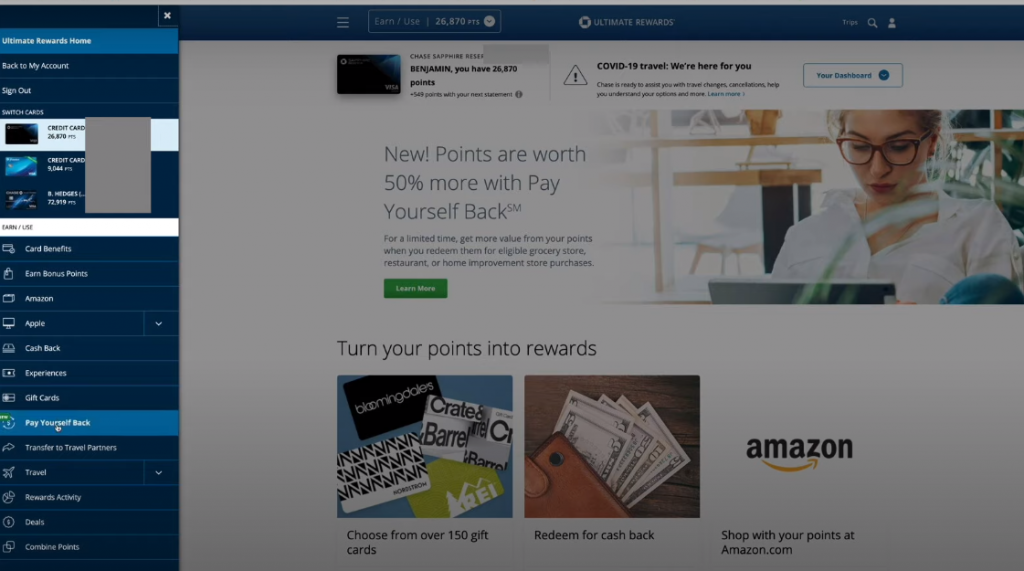 6. Here you can see all the purchases that are eligible for you to use your points to pay yourself back. After each purchase you have 90 days to pay yourself back. Thus you will see all qualifying purchases you've made in the last 90 days.
The purchases are organized in the order from the oldest purchase to the most recent one. The red circle labeled 5 that you see on the first purchase here, signals to you that there are only 5 days left to use the Chase Pay Yourself Back feature on this purchase.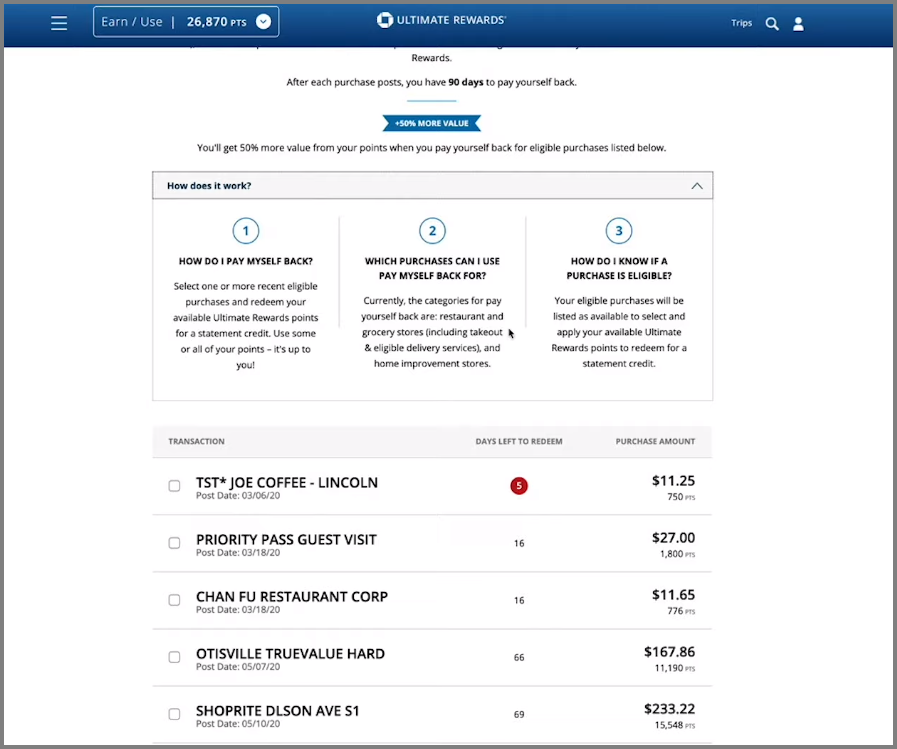 It will only show you purchases in the categories in which Chase is doing Pay Yourself Back for at the launch–the 50% more value or 1.5 cents per point. If you click on How Does It Work you will see that the categories are restaurant, grocery stores, and home improvement stores. 
7. If you don't want to use all your points now because you want to save them for travel in the future, you can click on only the purchase you'd like to apply the Pay Yourself Back feature to. For this example we will use 5,503 points to wipe off a $82.55 bill from Da Tang Supermarket.
Check the box next to the purchase of your choice and click Continue.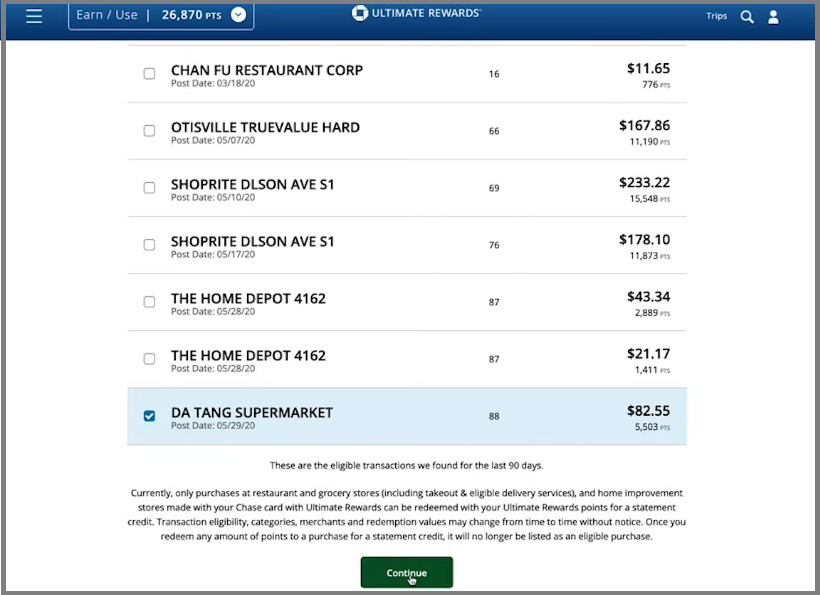 8. Now choose how much value of this purchase you'd like to wipe off (pay yourself back). You can choose to Apply Max Value or, say, half. In this example we applied max value. As you can see it would've cost us 2,751 points more if we weren't getting these extra 50% value with the Sapphire Reserve (preferred would be 25% more) using Chase Pay Yourself feature. Here you can also see how many points you have left in your balance. Click Confirm & Submit.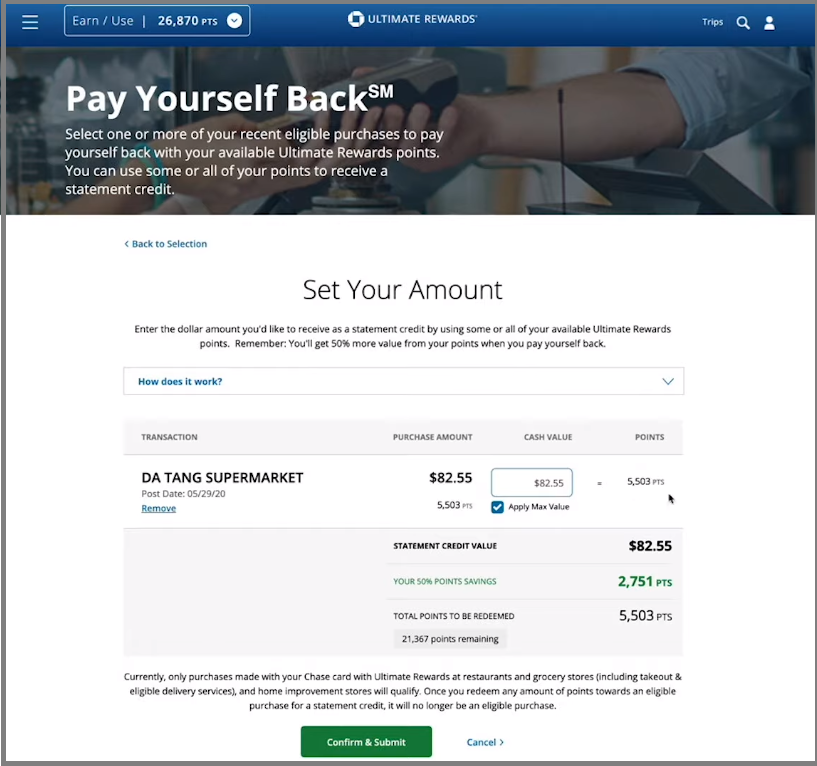 9. Just like that, you're all done! We've just paid ourselves back $88.55 for that supermarket purchase with the points we've earned earlier.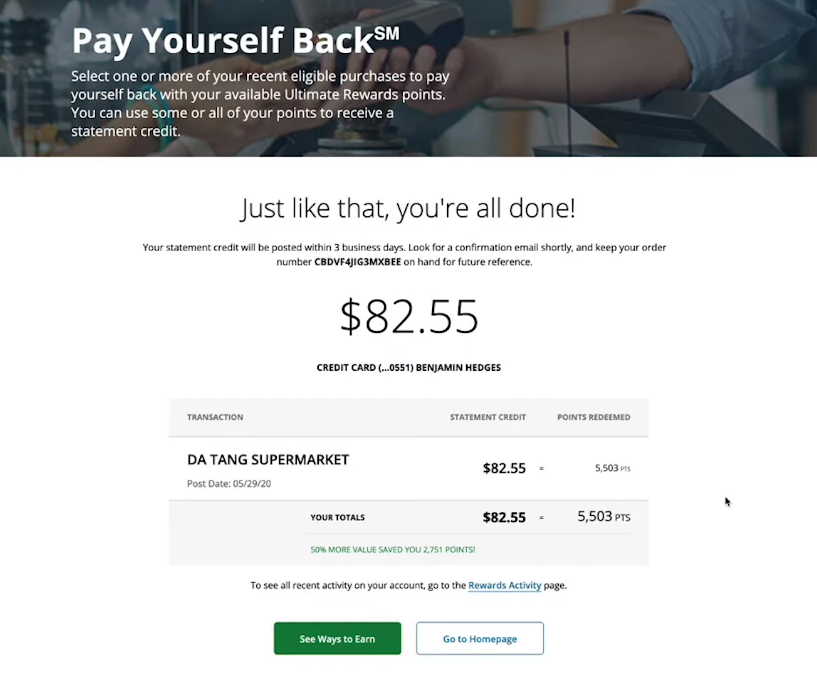 For more details check out
How to Use Chase's New Pay Yourself Back Feature
CODEC Stories: