Citi is one of the many U.S. banks that promised various forms of COVID-19 relief to its customers, including deferring payments and waiving fees. However, recent analysis by Consumer Reports suggests that when it comes to actually delivering the relief, Citi was "worse than other credit card issuers".
"No other bank even came close to Citibank in the number of coronavirus-related complaints," says Syed Ejaz, financial policy analyst at Consumer Reports.
Of the 456 credit card relief complaints, 168 (37%), were about Citibank, according to the analysis of complaints filed to the Consumer Financial Protection Bureau (CFPB) involving credit card issuers and COVID-19 relief between March 16 and May 20 of this year. 
The specific complaints about Citibank's COVID-19 relief programs were wide-ranging and included failure to waive late fees, surprise account closures, and inability to get help from the bank's customer representatives.
"…I took advantage, or thought I was, of Citi's delayed 30-day payment offer. Once the 30 days was approaching, I decided to check my account via my phone app to find out that Citi had ONLY waived the late fee I would incur had my payment been considered late. They even showed a late charge being applied to my account and then Citi refunding the late charge, BUT my account continued to incur interest charges. This made absolutely no sense to me. How do you delay my payments but continue to charge interest? I had a stellar account history with Citi, so this struck me as odd and unhelpful whatsoever. Immediately, I called Citi inquiring about the delayed payment program they had offered. I asked how this program was even slightly beneficial if interest continued to accrue under their offer? Citi informed me that they had waived my late fees. Yes, late fees I would NEVER incur had I not taken advantage of their so-called offer. So, again, what benefit was there for me, the consumer? NONE…" 
"Due to the coronavirus and stay-at-home order . . . I tried to call my credit card company, Citi Card Services . . . I did get through to one card by phone and they said they would put card payment on hold for 3 months . . . But it's not showing on my account. It shows only my due past amount [total]. I don't want them to report bad credit past due. Now when I call, I'm on hold forever [with] no answer," another consumer wrote to the CFPB on April 21.
In response to the April 21 complaint Citi said their written policies explain that while past due amounts may still be shown on customers' statements, Citibank reported the accounts as current to the credit bureaus during the waiver period.
Citi said that Consumer Reports "grossly misrepresented" how Citi has helped its customers since the beginning of the pandemic and that reports contained multiple "factual inaccuracies." For example, the complaints referenced in the CFPB database include calls received very early in the crisis just prior to credit card assistance being available.
"The complaints referenced in the CFPB database include calls related to merchant disputes, as well as calls received very early in the crisis just prior to credit card assistance being available, and in total, the 168 complaints represent a very small fraction — .008% of the 1.9 million customers assisted. In addition, applying for relief did not require an attestation of hardship; terms did not need to be negotiated; to make the process easier for customers, enrollment was digitally enabled and 80% of customers self-serviced; and accounts in good standing before the waiver period began were not reported to credit bureaus during this time," says Jennifer Bombardier, Citibank spokesperson.
Consumer Reports made several recommendations to Citi in a 9-page-long letter, urging the bank to improve its treatment of cardholders during the coronavirus pandemic. 
"Consumers resort to complaining to the CFPB when they've exhausted their efforts working directly with companies, so these complaints are often an indicator of larger problems," Ejaz says.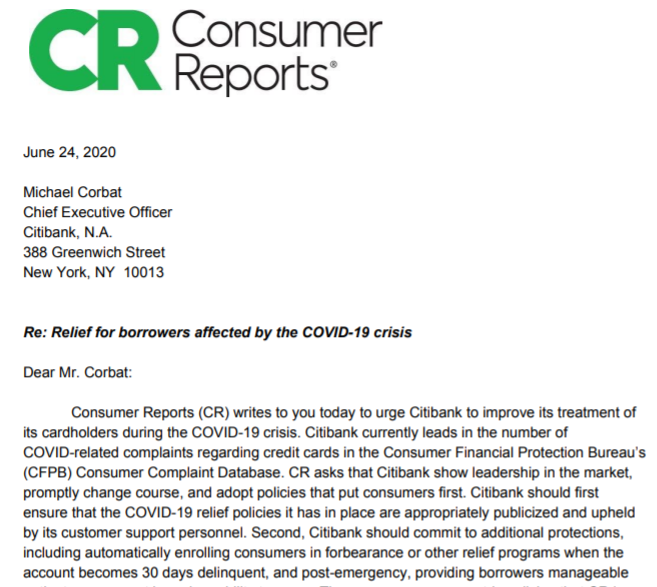 Citi stressed that the recommendations Consumer Reports called for are already in effect, including a dedicated COVID-19 website for customers, not requiring proof of hardship, digital enrollment, and more.
The banks with the second and third largest number of complaints related to COVID-19 were Synchrony (40) and Capital One (38). Consumer Reports also received 32 COVID-19 related complaints about J.P.Morgan services.
CODEC Stories: