American Express has expanded its referral program to include referral options for cards that you don't actually have. Amex will now let you refer friends and family to any card in the series of cards that you have one of, to the business version of a card you have, or in some cases, even to other cards you have no link to.
We don't currently know all the combinations, but this is what we have discovered so far. When signed in to my account for the Amex Hilton Ascend Card I can send a referral link for the Ascend card, that offers an increased sign up bonus of 150k Hilton points for the applicant and will reward me with 20k Hilton points, up to 80k per year. But if the applicant clicks on "view all cards with a referral offer" they get the option of applying for all three cards in the series of Hilton American Express personal cards and even the business card. They all have sign up bonuses that beat the public offer, see image below.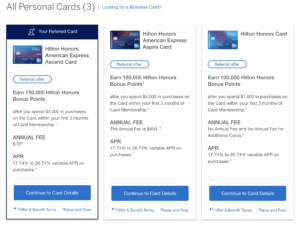 But the Amex Platinum referral link seems to offer far more options, not only does it allow applicants to apply for the platinum, but is also allows you to apply for any MR point earning card, some cash back cards and some co-branded cards, even if you don't have one of those cards in your collection. Mrs Credit Shifu's Amex Platinum referral link allowed applicants to apply for 17 different personal cards, including the new Gold Card with a 50k sign up bonus and co-branded cards such as the Delta Airlines Amex cards, as well as 12 business cards.
So if you are in the market to earn some extra points, you now have a lot more options for referring family and friends. Why not check your account and see what cards you have referral options for. Just remember referrals seem to be limited to 4 per year, you get the reward for the main card you are referring for, even if the applicant looks through the options and chooses a different card, and Amex does require you to disclose to the people you refer that you get rewarded for referring them, especially if you post the links on social media websites.
I referred a load of people for the Amex SPG card a while back through YouTube, and Amex sent me a letter saying they had delayed issuing the points in order to investigate whether the referrals were genuine or in keeping with terms and conditions. In the end I did get the points, so they may have just been checking I disclosed that I was being rewarded for the referral. I now have 60k SPG/Marriott points sitting in my account, all from referrals.
CODEC Stories: