By definition passive income is money landed in your wallet without laborious efforts. Cashback is arguably the most passive of them all as you're earning by spending. For example, paying your bills, buying groceries, gift shopping for your family members, ordering take out, and more. 
There are three paths you can take to generate a tangible amount of cashback: 
Make purchases via cashback app/sites. 

Capitalize on credit cards that offer cashback. 

Take advantage of specials and limited-time offers.
This article is a practical and helpful road map of how to start earning cashback and how to maximize it by using a cashback app/sites. We also included real-life case studies to give you an idea of how much cashback you can earn.
How to Choose Your Winner Cashback App/Site
There are many cashback app/sites to choose from to earn your cashback: BeFrugal, Ibotta, Rakuten, MyPoints, Swagbucks, Bitwalking, Mobee, and many more 
The best strategy for finding the best one to use is to:
Choose an app/site that has a vast variety of participating stores and brands so you can earn cashback on every, or almost every, purchase you make.

Search up how long has the app/site has been on the market to avoid being scammed.

Check out the app/site reviews to see if it has any history of "skipping" payments to its users.

Choose an app/site that pays your earned cashback without any additional hustle directly to you. It could be via check or via paypal. There are sites that advertise 3-7% cashback, but only pay you earned cashback in the form of particular retailers gift cards. This is to say, a $100 check will probably have more value for the most of us than a $100 Rolex gift card.

Pick the one with a good welcome offer to give you a nice start.
Rakuten is a solid cashback site that also has an app if you're doing most of your shopping on your phone. Rakuten offers up to 40% cashback at over 2,500 stores nationwide, as well as lots of coupons, limited-time 3X cashback offers, and perks such as free gifts with purchases and free shipping.
If you're using a desktop for the most of your shopping, you can install The Rakuten CashBack Button browser extension. With this cashback extension installed, head straight to the site you want to shop, and the extension will let you know if you can get cashback on your purchase. The extension will also show you best deals, auto apply available coupons, and will do price comparisons for you. This browser extension has over 3 mil users and over 43K reviews.
Rakuten's app has all the above listed functionality built-in as well.
Passive Income: How to Use Rakuten to Earn Cashback
Confirm your email

Spend $25 via Rakuten app or website. If you're using the Rakuten site, simply go to Rauten.com and search for a store, brand or particular product you're looking to buy. Click on the search result of your liking and Rauten will redirect you to that site. Shop as usual 

Your earnings will be shown in your Rakuten account. It will show you how much you earned on each purchase you made via Rakuten

Collect your earnings quarterly via paypal or a check by mail.
Case Study
"I signed up for Rakuten using a welcome bonus referral – $10 for signing up when I spent $25 in the first 90 days from opening the account. I then searched up Walgreens.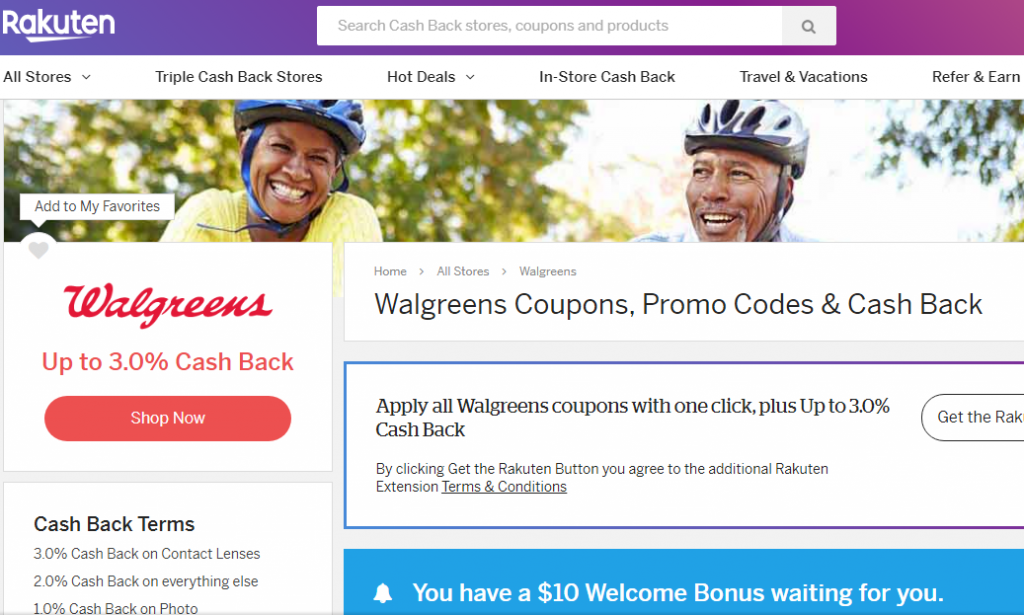 I then clicked on the Walgreens search results and purchased dishwashing liquid, detergent, fabric softener, and some smaller household items like toothpaste, soap, etc. My total was $26.23. Two days later I saw a $10 bonus and 52 cents cashback from my Walgreens purchase posted in My Account on Rakuten. I then also recommended the site to my sister and asked her to register with my referral link –  Refer a Friend & Earn $25 tab at the top menu. She signed up and received $10 after her two purchases totaling in $25+. My earnings rose by another $25 on the same day my sister got her $10 welcome bonus.
Thus my cashback earnings for a two-week period totaled to $35.52 for one $26.23 purchase, one welcome bonus, and one referral bonus. I received a check by mail from Rakuten about one week later. The check was sent at the end of the Q2 2020."
Rakuten cashback payments are sent every three months, based on the schedule below.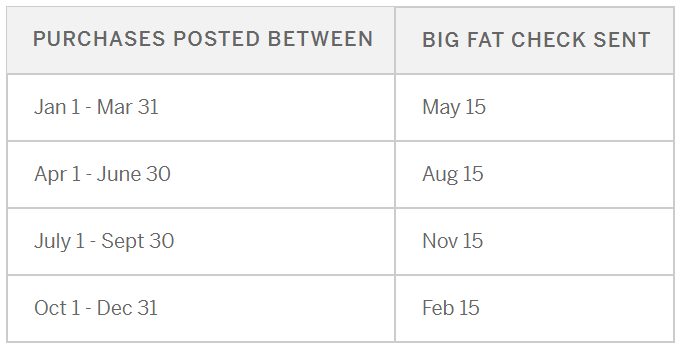 For other extra earnings ideas check out
10 Passive Income Ideas: Earn an Extra $50 – $1000 a Week In 2020. No Need to Rent Out Your Apartment to Strangers
CODEC Stories: