Amex Gold: How to Maximize Value and Offset the Annual Fee
Credits, sign up bonus etc added together minus the annual fee
The new Amex Gold Card has caused quite a stir through the community of credit card enthusiasts and a lot of people have applied for the card over the last week or so. A while back we did a video on maximizing the benefits of the Amex Platinum to offset the annual fee and here we are going to do the same thing with the new Gold Card.
First we will take a look at the estimated value you can get out of the card in year one and subsequent years. These figures exclude points earned through general spending. We came to these figures by adding together the various credits and also for the first year, the sign up bonus, and the extra airline credit (the credit is per calendar year so you get it twice in the first year of membership) and if you are applying before 01/09/2018 the additional restaurant credit. We then subtracted the $250 annual fee from the totals. We also included the figure if you don't use the Hotel Collection credit for subsequent years, since this credit may not be convenient to use for some people.
First Year Value: Up to $1,195
$1095 if you get the card after 01/09/2018
Subsequent year value: $45 (Annual fee offset by various credits, $45 in profit)
 -$30 (If you don't use the Hotel Collection credit)
Below we will take more of a detailed look at the sign up bonus and the credits.
Sign Up Bonus
The Gold Card features a 25k MR point sign up bonus, but there is also the opportunity to get a 50k sign up bonus through a referral link. Since anyone with a friend who has an American Express card should be able to get hold of a referral link (the person who provides the link will be rewarded too) we will just assume most people will get 50k. If we go by the Points Guy's valuations (1 MR point = 1.9c) then the sign up bonus is potentially worth $950. Although this value depends a lot on how the bonus is redeemed.
Credits
$120 Dining credit ($10 every month)
$100 airline credit (once every calendar year, so $200 in first year of membership)
$75 Hotel collection credit when you book for two consecutive nights
Before 01/09/2018
$100 restaurant credit (20% off each bill, up to $100)
Using the dining credit
The dining credit is dished out in $10 installments and can be used at the following locations:
Grubhub, Seamless, The Cheesecake Factory, Ruth's Chris Steak House and participating Shake Shack locations. Excludes Shake Shack locations in ballparks, stadiums, airports and racetracks.
Source Amex Gold Card Terms
If you forget to use it one month, then your $10 for that month is gone, so don't forget!
Using the Airline Credit
One of the things you should do when you get your Amex Gold Card is pick your airline through the Amex website, there are 7 options to choose from. Since the credit resets every calendar year, you will need to pick an airline again in January. If you want to change your airline mid-year, you may be able to call and change, but this isn't guaranteed.
The airline credit officially only covers incidental fees like checked bags or onboard drinks and entertainment. However cardmembers should be able to get refunded for gift cards on AA, Delta and Southwest. There used to be more airlines that you could get giftcards for, but the list has got shorter, and it could change further. I recommend testing it with a $50 giftcard and waiting a couple of days to see if you get a $50 statement credit, if you do, buy another one. For Delta gift cards people have reported not getting a statement credit if they buy the gift card through a smartphone (apparently the purchase codes as "Delta gift card" and thus doesn't count), so I would recommend for all gift cards (whatever the airline) use a desktop PC. Again, gift cards are a grey area with this, so make sure to test it and search on credit card blogs and forums for the most up to date info about it.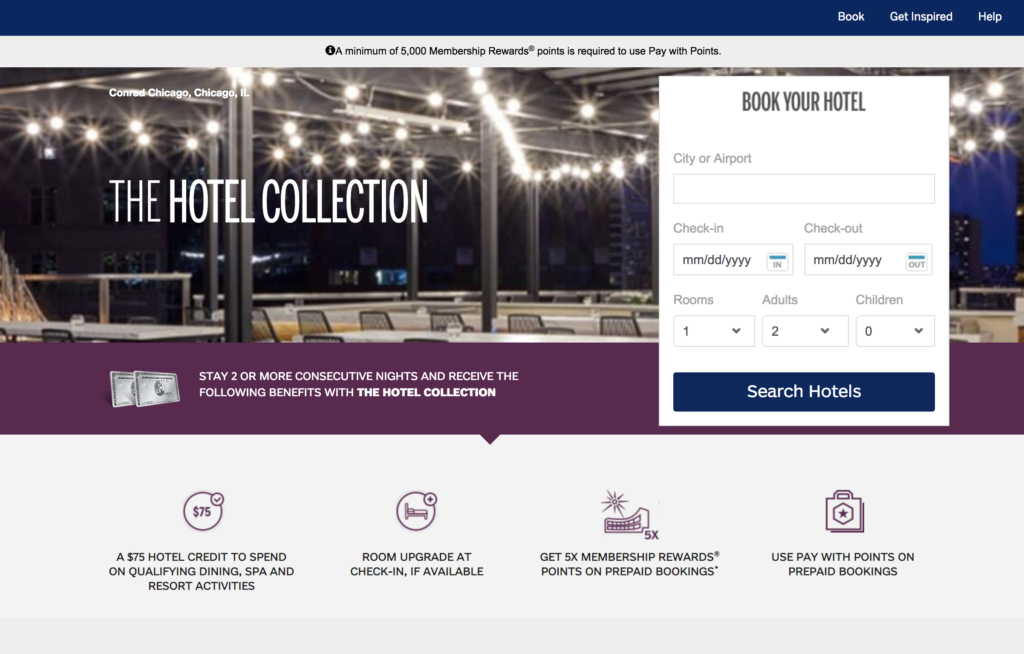 Using the Hotel Collection Credit
The Hotel collection can be found in the member benefits section of your online account, you click through to the hotel collection website. If you book one of the hotels in the collection for two consecutive nights, you will be awarded $1 worth of credits for each $1 spent, up to $75, so on a two night stay you should get the full $75. The credit covers hotel charges like spa treatments etc, not the price of the room and the credit expires at check out. This credit is probably the least likely to get used, because it relies on you actually wanting to stay at one of the hotels for two nights, that may not be convenient for you.
Hopefully that helps breakdown how to offset the annual fee on the new Amex Gold card. Of course we didn't get into how much value you can get out of the card in terms of point earning, and with the new 4x categories there should be a lot of scope for earning MR points, that will be the topic of a future post.